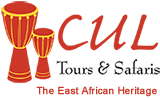 Your Safari proceeds Supports Noah's Ark Academy Naminya (NAAN) Orphan & school founded in 2012 to answer to a need for a daycare for impoverished orphans/children. Initially it were a couple of children, but in no time at all the numbers grew to more than 80 children. This was too much for them to handle and they realized a structural solution was needed; NAAN was born.
In an effort to enable you to have unobstructed 3600views of wildlife during game drives, the cars have pop-up roofs. Their viewing deck doubles as a luggage carrier, just in case you have excess luggage. Prior to departure for a trip, all our cars undergo a full and thorough service. Better still, in- case of break down, Cul Tours will send a mechanic plus a standby car to ensure you carry on with your trip without any interruptions. Clients interested in car hire benefit from comprehensive insurance whereby any damages above US$ 200 are covered by Cul Tours and Safaris.
Our fleet of vehicles includes Toyota mini-vans and Landcruiser that are ideal for both self-drive and guided safaris. Thanks to regular maintenance, they are all in good condition and clean. They are custom made for long trips both in the sense of comfort and an engine that never heats up.
In case you want internet access during your trip, we are happy to improvise you with a router.  They are custom made for Africa's terrain and have all-Terrain Tyres. This makes them perfect even for off-road adventures. They also have a Hi-lift jack and two spare tyres just in case you get a flat tyre.
Each is driven by well-trained driver guides, who are licensed by Ministry of Roads and Works. Having spent more than five years of their lives travelling around the country, they know the shortest possible routes and have an impressive knowledge of Uganda's tourism destinations and experiences.
Igongo is a true treasure along the highway that connects Uganda's capital to Bwindi Impenetrable National Park. There is so much to see in this museum that is dedicated to preserving the ancient ways of life of the Banyankole, a tribe of tall Bantu cattle keepers in Western Uganda. It sits on a gently rising hill that used to host the royal palace of Ankole Kingdom before it was abolished in 1980's for political reasons.
In terms of both indoor and outdoor exhibits, Igongo has it all. Its diversity of displays is incredible and each section is so overwhelming in its own way… amazing sculptures, hand crafted utensils, cultural fashion, incredible nature, royal regalia, traditional tools used in warfare, etc. You can spend and enjoyable one hour strolling through the exhibits to examine a stunning collection of beautifully crafted statues. Thanks to the attention to detail with which they were crafted, they are incredibly thought provoking.